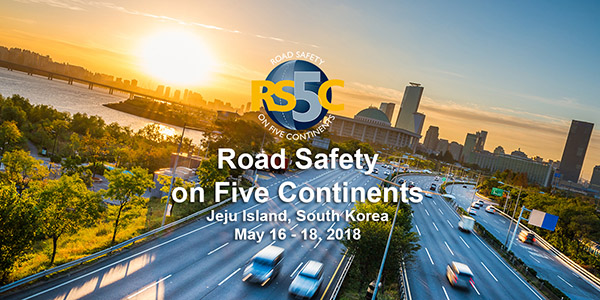 Call for abstracts and special sessions to the 18th international conference Road Safety on Five Continents (RS5C) is now open.
In May 16-18, 2018, the RS5C conference will take place on Jeju Island, South Korea. The conference is organised by VTI in close cooperation with Korea Transportation Safety Authority (KOTSA).
With focus on traffic safety and health, experts will present and discuss about hot topics and the latest research in the road transport area. By providing a mutual ground for sharing knowledge and a forum to discuss mutual problems and their solutions, researchers, officials and other stakeholders can learn from results, experiences and success stories.
The Organising Committee invites authors to submit abstracts related to the conference topics listed below. The Organising Committee further invites to submit proposals for special sessions.
Road safety plans, policies and strategies
Safety modelling, accident analysis and evaluation techniques
Vulnerable Road Users
Road user education and campaigns
Vehicle innovations, autonomous driving and ITS applications
Infrastructure
Road user capabilities and state
Road user behavioural issues and risk perception
Safety aspects of public transport
The economics of road safety
Speed management
Special Session
Deadline for submission of abstracts and special sessions is April 30, 2017