VTI uses the PEDRO* calculation model and a number of different variables to calculate road degradation and examine how deformations in asphalt arise.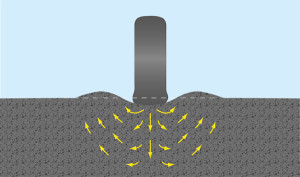 Goods vehicles and heavy vehicles contribute greatly to the formation of ruts (longitudinal deformations) and ridges (transverse deformations) in the asphalt used on road surfaces. The PEDRO model makes it possible to calculate how these deformations arise. The two mechanisms affecting rut formation in bitumen-bound surfaces in connection with repeated traffic loads are packing during the initial years and rearrangement over the service life of the road.
"Most models do not take the initial packing period into account in an analytical manner, which causes problems when making predictions. The PEDRO model employs two constitutive formulas that take both these stages into account," says VTI researcher Safwat Said.
The PEDRO model includes variables for the traffic load, pavement layers and the climate. In addition, axle loads, tyre pressures, tyre types and velocities of heavy vehicles and the lateral traffic distribution all have different effects on the deformation that occurs, and these can also be calculated using the model.
*PEDRO = Permanent Deformation in Asphalt Concrete for Roads
Text: Karin Andersson