Today, in climate change, urbanisation, digitisation and electrification we see four widely discussed societal megatrends that will have an impact on virtually all areas of our lives, and urban transport infrastructure is no exception.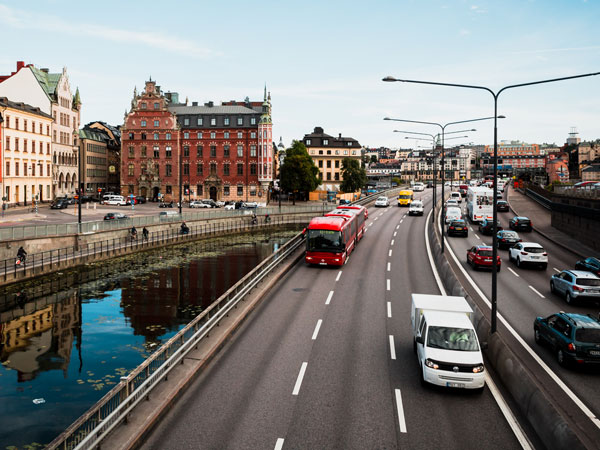 Dina Kuttah, a senior researcher at the Swedish National Road and Transport Research Institute (VTI), has recently developed models and proposals for test beds for multifunctional streets, designed and constructed to function smartly in a changing world.
"Ideally, we would build streets that allow us to simultaneously address all infrastructure challenges that are likely to arise," says Dina Kuttah, "but we will have to satisfy ourselves with developing structural designs that can each solve two or three of the problems we are facing."
The proposed new concepts include roads with water reservoirs, underground heating and self-draining road courses.
"All of these address climate change. Greater rainfall and snowfall increase the risk of flooding. We have already seen that our cities are ill-equipped to deal with torrential rains, that the water remains and constitutes a danger to human life and causes enormous material damage. Reservoirs installed beneath the street can capture storm water that can then be either filtered into the soil or recycled. This would combat flooding, as would permeable coatings."
It is also predicted that snowfall will increase in certain parts of Sweden and the more widespread use of heating pipes beneath streets would increase accessibility and road safety.
Dina Kuttah offers also examples of how streets can be adapted to the trends towards urbanisation, digitisation and electrification:
Charging rails embedded in roads could inductively charge vehicles while driving, instead of using stationary charging stations.
Reinforcing parts of the roads could withstand the increased rutting that autonomous vehicles are expected to cause due to platoon driving and narrow lateral wander pattern of autonomous vehicles.
Infra-culverts installed beneath streets to carry all cables and pipes could provide easy control for the pipe network, reduce the need for future excavation work, reduce disruption to society with fewer street closures during planned maintenance, and enable vacuum waste collection system which in turn leads to reduced heavy traffic.
One important element of the project was to assess how these new streets can be tested. Dina Kuttah has proposed test beds for VTI's Heavy Vehicle Simulator and is hopeful that she and her colleagues will eventually be given the assignment of testing the new structural designs. Full-scale trials with long-term traffic loads will be required before any large-scale production of smart streets can begin.
"Although it has been highly enjoyable, the generality of the work has been different and challenging. In my opinion, we will see more and more research into road technology with a broader perspective, as this is necessary if our infrastructure is to cope with climate change and other challenges."
The project has been conducted within the Vinnova-funded project Smart Streets, which is coordinated by the KTH Royal Institute of Technology in Sweden.
Read more:
Dina Kuttah (2021): Smart streets – Technical design and construction.
VTI report 1083. (Written in Swedish, with an abstract in English.)
Text: Hillevi Ternström/VTI
Translated by: Semantix AB
Contact:

Dina Kuttah
dina.kuttah@vti.se
VTI, Swedish National Road and Transport Research Institute, Sweden