Serious Games are games created primarily for a purpose other than entertainment. The CATAPULT research project uses board games and maps to rethink self-driving vehicles and the future of public transport. The games provide interesting insights, according to the first Swedish test participants from Östgötatrafiken, VTI and RISE.
"Serious games can provide a better understanding than interviews. Such games better simulate a decision-making situation, making it a bit more real. This was a test, but future projects may be more thorough, where we actually test the results in real life," says Magnus Berglund, research director at VTI.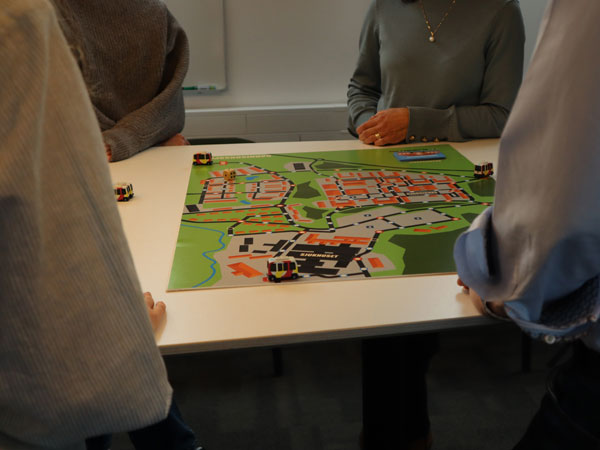 CATAPULT is a European cooperation project with partners from Austria, Belgium and Sweden. For Sweden, RISE is the project leader with support from VTI. The Swedish effort is funded by the Swedish Energy Agency. CATAPULT is also connected as a project to Ride the Future, the research project on self-driving vehicles where VTI is one of the project owners.
CATAPULT aims to develop inclusive, needs-oriented and target-group specific guidelines for autonomous mobility solutions in cities. Last week, researchers in Belgium tested and evaluated two different game variants developed within the project.
The board game consisted of a map of Linköping's Garnisonen neighbourhood, where Ride the Future's self-driving buses would operate to best serve elderly and disabled target groups. Participants rolled dice, landed on different spaces on the board and drew cards with different situations that require problem solving and prompt discussion.
How can a passenger who has fallen asleep be helped to awaken before missing their stop? Perhaps the passenger's seat can be shaken, or a signal sent via their mobile or watch – but is it even the responsibility of the transit company to provide such a service?
How to help passengers who are too slow and don't have time to exit the bus before the doors close? Perhaps a button in the bus could hold the door open, or the bus could measure passenger weight differences to track where and when they will exit the bus? Camera surveillance is possible, but may be invasive.
In the second game variant, each participant was given a map of the same neighbourhood. The task was to design public transport for various target groups related to hospitals, businesses, housing and the judiciary. In all these cases, participants saw opportunities for autonomous buses as feeder services to regular public transport.
The group found the games entertaining, while also providing a good opportunity to discuss more or less realistic solutions for autonomous public transport. The difficult part was probably finding relevant questions and events that make for good conversations, the group felt. The games opened up new options and helped them understand difficult perspectives. Participants felt more present in the real world than if the problems alone were delivered as bullet points, and felt they could think better in the environment presented.
"These exercises show that Serious Games is a useful method for research and can provide better insights into different decision-making situations. It can become a tool in the change process, an engaging tool for dialogue with different stakeholders. It can also be done with input from citizens themselves. Such games can be a way of communicating before major changes in public transport, as a way of inviting participation and interacting in a fun, light-hearted yet penetrating way," says Magnus Berglund.
Both researchers and stakeholders participated in the game evaluation: Project manager Martin Holmberg (RISE), Magnus Berglund and research assistant Kristina Larsson (VTI), research assistant Hillevi Fock and Chief of Staff Therese Furhoff, IT manager Carin Carelid and deputy traffic manager Mattias Näsström (Östgötatrafiken).
Those interested can contact VTI or other participants in the project or Ride the Future.
CATAPULT – Policies for inclusive autonomous mobility solutions for cities (catapultproject.eu)
Ride the future – self-driving buses in Linköping, Sweden.
Text: Gunilla Rech/VTI
Translated by: CBG Konsult & Information AB
Contact