SHREK – Swedish harbours' role in a circular economy – is the name of a two-year research project being run by VTI and several partners. A pilot study involving stabilised clay being transported by sea has yielded positive results – both for the environment and the economy.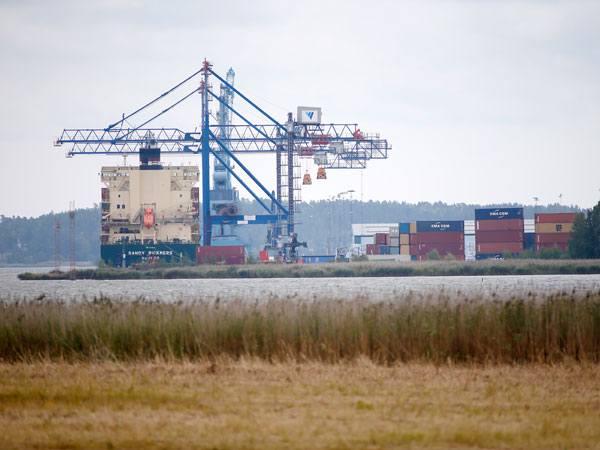 The project is being financed by the Swedish Transport Administration and is a collaboration between VTI, the SSPA research institute, the Port of Trelleborg, Ports of Halland, Port of Norrköping, Port of Oslo, Kretslopp och Vatten and Avfall Sverige, the Swedish Waste Management Association.
It aims to find opportunities where transport by sea is suitable for enabling the re-use of materials. Once such material is soil and excavated materials, as these could be re-used in new construction and infrastructure projects.
"Currently, these types of material are usually sent to landfill, rather than being recycled. Major environmental savings can be made by using them and consequently replace extracted virgin materials. Furthermore, these are large volumes of heavy low-value materials which justifies the use of shipping," says Linea Kjellsdotter Ivert, SHREK's project manager and senior researcher at VTI.
The case study involved enlisting OP Ship to transport clay masses from the Ragn-Sells facilities in Skepplanda to the Port of Trelleborg, where it was to be used as fill material for the expansion of the harbour. The level of carbon emissions dropped by over 70 per cent when the materials were transported via ship instead of trucks. Additionally, the sea freight option was 25 per cent cheaper. One reason behind the favourable price was that return transport could be used.
Certain additional work was necessary as the transport buyer was unfamiliar of using ship freight and the shipping company had no experience with the materials. Some of the paperwork was viewed as tiring. In addition, more parties were involved than with truck transport researchers believe that these processes will become easier if they are carried out more often.
Generally speaking, all parties were positive towards transporting these materials by sea. "As a matter of fact, clay is an optimal material for sea transport. It is not sensitive to weather conditions and the ship only requires slightly more cleaning," explains Gregor Loebbert, CEO of OP Ship. Jonas Bramsved, head of logistics at the Port of Trelleborg agrees,
"Transporting materials via sea does not pose any obstacles per se. However we need the right conditions, timing, and volumes. But I must criticise my industry – we need to get better at showing how easy shipping is to use, so customers see all the possibilities we provide.
Head of unit at Ragn-Sells in Gothenburg Martin Andersson also sees possibilities:
"We are getting ready for shipping traffic and have seen that this is an advantageous way to transport masses. It is also an interesting way to bring concrete and fuel via Marieholm, and transport plastics and paper to the continent."
Text: Gunilla Rech/VTI
Translated by: Semantix AB
Contact: