Package lockers provide more climate-friendly distribution than home delivery and pick-up in stores and kiosks.
This is one of the main findings in a new TØI-report where researchers have investigated the use of parcel lockers at pick-up points in neighborhoods in Oslo, Bærum, Asker and Drammen municipalities.
Parcel lockers reduce car use
The pandemic boosted online shopping in Norway and the trend seems to continue. In the report researchers find that compared to manned pick-up points and home delivery parcel lockers can reduce the traffic load from last mile deliveries. Furthermore, consumers use car less frequently when picking up goods at parcel lockers than to other delivery locations such as in stores and kiosks. Also, logistics operators drive relatively few kilometers on average per parcel delivered in a parcel locker.
26 percent of the respondents in the study use a car to pick up goods from a parcel locker, compared to 46 percent for delivery in a store. Moreover, 60 percent use bicycles or walk to parcel lockers, compared to 45 percent for delivery in shops. In addition, trips to parcel lockers are carried out more often in combination with other errands, and the average distance to parcel lockers is about a third of the distance to parcel delivery and pick-up in stores.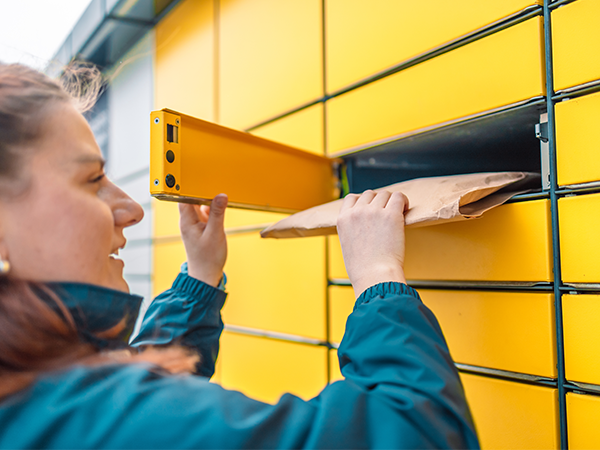 Photo: Irina Shatilova/Shutterstock.com
More efficient for distributers
The logistics operators can reduce the average per parcel kilometers travelled to parcel lockers. In fact, one of the distributers in the study, Posten, reports on relatively efficient distribution to parcel lockers in its own network. Moreover, in Oslo, Posten reported that the average kilometers driven to deliver a parcel to parcel lockers were the same (and as low as) delivering to shops/kiosks.
The municipalities can play an important role in providing good facilitation by influencing where the parcel lockers are located, and can decrease the distance to the parcel lockers` sites. Guidelines for how municipalities should treat parcel lockers in accordance with the Planning and Building Act can be a helpful measure in ensuring sustainable solutions. The report suggests that arrangements should be developed where municipal authorities can influence the deployment of parcel lockers.
A measure that can further increase the effect of parcel lockers is actor-neutral parcel lockers. Actor-neutral/shared parcel lockers are cabinets to which all logistics players and carriers can deliver packages. The solution is usually produced as a package cabinet without a logo and must be able to be used on equal terms by different players.
Read a summary of the report here: https://www.toi.no/getfile.php/1374910-1677588385/Publikasjoner/T%C3%98I%20rapporter/2023/1943-2023/1943-2023_Summary.pdf
Text: Hanne Sparre-Enger, Communications Leader at the Institute of Transport Research