The first carshare vehicles were introduced by Zipcar in Reykjavik, Iceland, for the first time in 2017. EFLA Consulting Engineers probed into carsharing users travel patterns and car ownership. This research was funded by the Icelandic Road and Coastal Administration Research Fund.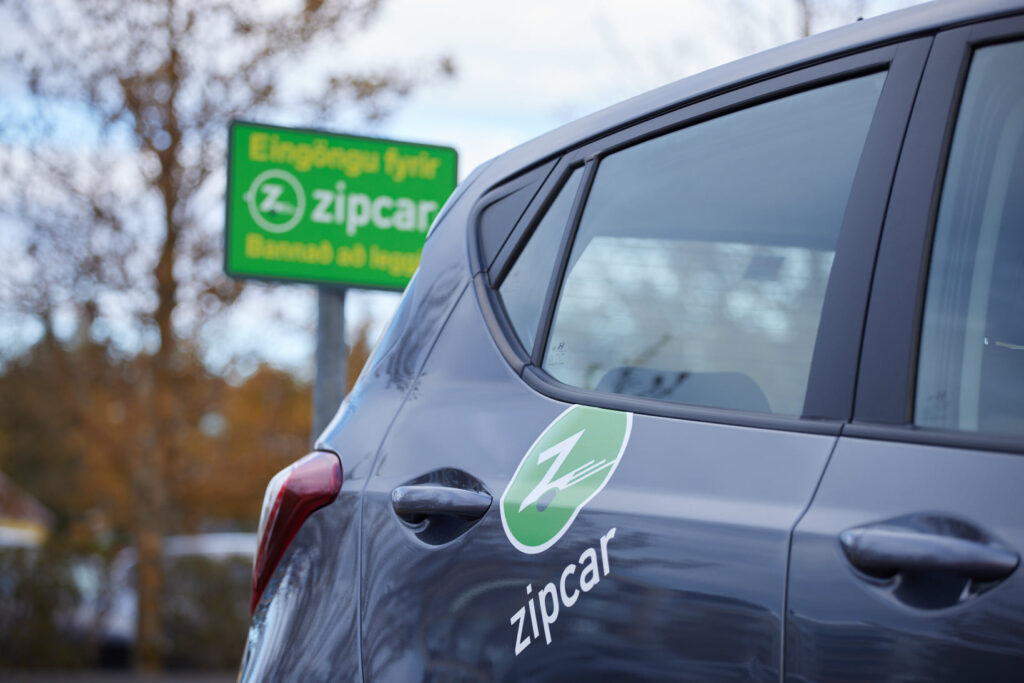 Zipcar carsharing vehicle in Iceland. Photo: Zipcar Facebookpage/Hafnarfjordur Municipality
Travel studies and research have shown that private car ownership has a major influence on the use of public transportation and impacts our everyday travel pattern. Iceland is no exception, where car ownership is on average very high, there are 1,7 vehicles registered for every household in the capital area of Iceland. This translates into almost one vehicle per every adult in the capital area. Recent travel surveys show that car travel represents about 60% of all trips, and they also demonstrate that the greater the number of vehicles registered per household, the fewer trips are made by other modes than car, as can be seen in figure 2.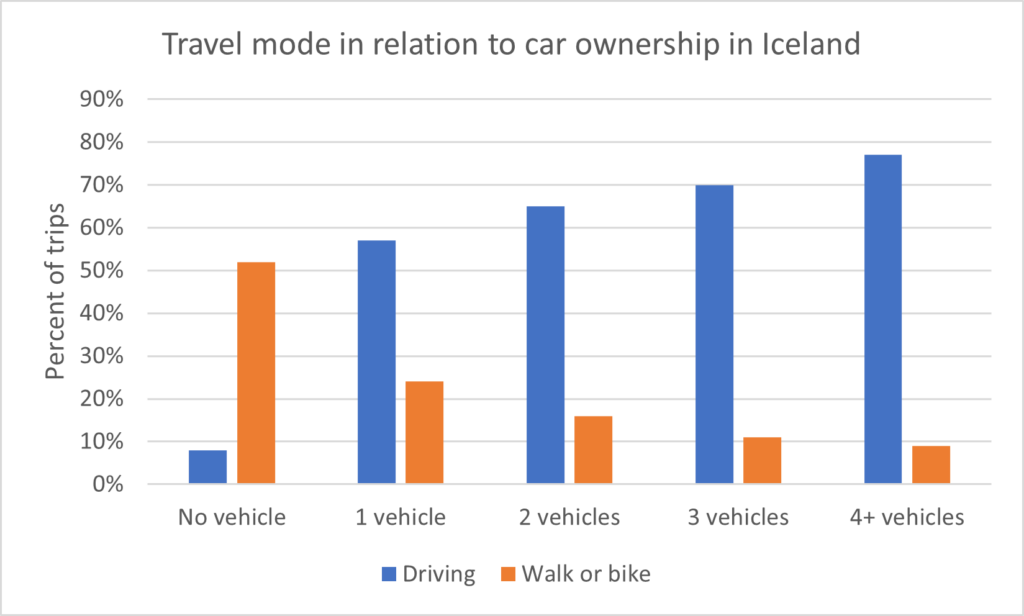 Travel mode in relation to car ownership of a household (based on travel survey in the capital area of Iceland conducted in 2019).
Carsharing has been around in Europe for over 40 years and has since then expanded all over the world. Research has demonstrated that two-way carsharing, where a vehicle is picked up and dropped off at the same parking spot, has a very positive influence on travel behavior. Reports state that one carsharing vehicle typically replaces 5 to 15 private cars, which consequently makes people's lives more affordable and can also improve our built environment by reducing the number of parking spaces.
At the time the research was conducted in 2020, eight vehicles serviced by the car-sharing operator Zipcar were available in the central part of Reykjavík. To understand the impact of carsharing on travel patterns and car ownership, a travel survey was sent to Zipcar members. Around 1.000 members were registered at Zipcar at that time, and just over 180 members participated in the survey. As almost half of the participants had used the carsharing very infrequently, the research focused on active members.
The research showed that about 25% of members use the car share vehicle frequently (i.e., more than once a month). The majority of the users used the vehicle less than once a month.

Survey participants were asked how often they used a carsharing vehicle.
When investigating travel patterns and car ownership, the results showed that carsharing members own fewer cars and use transit more frequently than the general population in the capital area. Majority of the members (43%) had no vehicle in their household, meaning that carsharing is improving access for those who previously didn´t own a car. Zipcar also investigated the usage of their carsharing vehicles – three vehicles did have around 50 unique members in a single year (2019) which shows the potential of carsharing vehicles compared to the private car, which normally has only one or two users.
An important focus of the research was to understand whether the introduction of the carsharing service in Iceland had already removed vehicles off the street. To understand that relationship, the research followed the same method as was found in a carsharing study from Vancouver (Metro Vancouver, 2014) where participants were asked whether the number of vehicles in their household had changed, as well as asking about impacts on car ownership if carsharing access was removed. Using that methodology, results showed that one carshare vehicle takes 4 to 6 vehicles off the street. These results are in line with other studies and a promising sign for carsharing, which had only been around for two years at the time of the survey. About 3% of survey participants stated that the number of vehicles in their household had decreased due to access to carsharing.
Municipalities in the capital area and the government of Iceland have agreed on plans to get more people using other modes of transportation than the private car and have invested in projects to improve public transportation and bike infrastructure. Due to the high number of car owners in the capital area of Iceland, it will take time. However, the research shows that carsharing can play a role in achieving these long-term goals.
This research was partially funded by the Icelandic Road and Coastal Administration Research Fund.

EFLA Consulting Engineers
Daði Baldur Ottósson