E-scooters have shown to be a new popular mode of transport. VSO Consulting for the Icelandic Road and Coastal Administration's research fund has investigated different aspects of e-scooters such as use and accident risk.
In recent years, e-scooters have been making their way as a new active mode of travel. There is number of things to keep in mind when introducing new modes of transport, as they can become extremely popular in a short period of time, as has been shown with e-scooters. Almost two thousand e-scooters are for rent in Iceland's capital area today and the e-scooters have also been distributed, in smaller quantities, to municipalities in the countryside. Privately owned e-scooters have also increased significantly and an e-scooter can be found in 12% of Reykjavík's households. Most e-scooter users prefer to travel on bike lanes and paths, away from car traffic. In Icelandic surveys, 44% say they have tried e-scooters and 12% of regular users say they want to use them on streets where the maximum speed is 30 km / h or lower, which is not allowed today.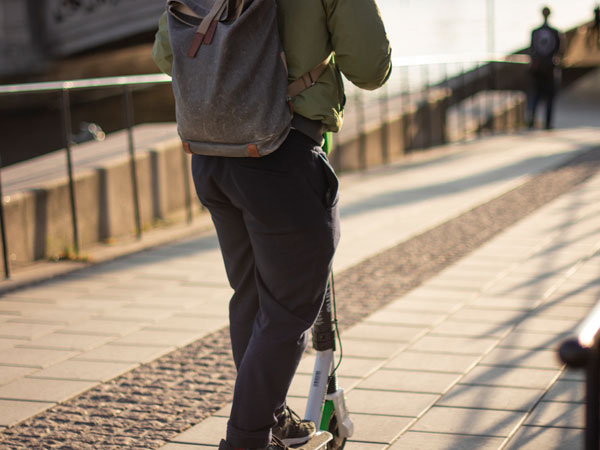 All modes of transport involve certain risks, but the frequency of accidents due to e-scooters varies depending on the situation in each country. Figures have been published ranging from 10 up to 136 accidents per million driven kilometers. In the summer of 2020, there were 149 people who sought help at Landsspítali's emergency department, and a large part of the accidents could be traced to excessive driving, driving under the influence of alcohol and drugs, a driver who loses balance or due to uneven surfaces. The cause of many accidents on e-scooters can be traced to the surface, which underlines the importance of building infrastructure for e-scooters in municipalities. 45% of those who sought emergency care in 2020 were under 18 years of age.
Increased training and instruction in the use of e-scooters has been shown to reduce the risk of accidents, as one third of the injured were testing the e-scooter for the first time and another 30% of the injured had used the e-scooter 1- 9 times before. A French study also shows that about 40% of e-scooter users in French towns are foreign tourists, who are probably used to other traffic cultures and rules. Traffic rules on e-scooters vary from country to country, but most of them are such that the speed should be limited to 20-25 km / h and that the use of light is important.
To ensure the safety of users of e-scooters and other road users, various things can be done, either by laws and regulations or kind recommendations. Laws and regulations can be for example, to introduce a minimum age for e-scooter riders, a reduction in the maximum speed, the closure of e-scooter rental services on Friday and Saturday evenings, increased requirements for protective equipment, where e-scooters can be driven, the size and age of users or increasing fines for traffic offenses. While friendly recommendations could include the use of bicycle bells, nailed tires in the winter or "pop-up" gatherings where e-scooters are taught in a safe area e.g., on a closed street. Companies that rent out electric scooters have also repeatedly undergone improvements to their electric scooters to increase user safety and durability of equipment, as the picture below shows.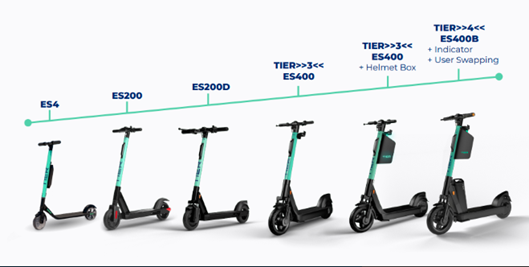 For rented e-scooters, there are often GPS meters that can locate the e-scooters with an accuracy of up to 2.5 meters. Since the e-scooters can share their location with their owners, it is possible to use a digital fence, which has the property that it is possible to ban or slow down the traffic of e-scooters when entering a predetermined area. It is also possible to prevent them from being parked in certain places and give a discount on a trip if an e-scooter is returned in certain places, e.g. for the construction of an e-scooter parking lot.
In many cities, there are restrictions on how many e-scooters can be rented within the city limits at any given time, and in many cities the rules for their use are regularly changed with increasing knowledge of the use of e-scooters and the consequences of e-scooter traffic.
This research was supported by the Icelandic Road and Coastal Administration Research Fund.
Contact: