The VTI train simulator was included in a research study during which train drivers were able to try out new designs of the European Rail Traffic Management System (ERTMS) signalling system. The aim is to create optimal signalling projects combined with the best possible work environment for the train driver.
ERTMS is a new EU-wide signalling system that has been created to ensure safety on the rail network. ERTMS is being rolled out throughout Sweden, starting on the pilot networks of the Ådal and Bothnia Line, Haparanda Line, and West Dalarna Line. The signalling system is speeding up the digitisation of the railways and is necessary for future automation.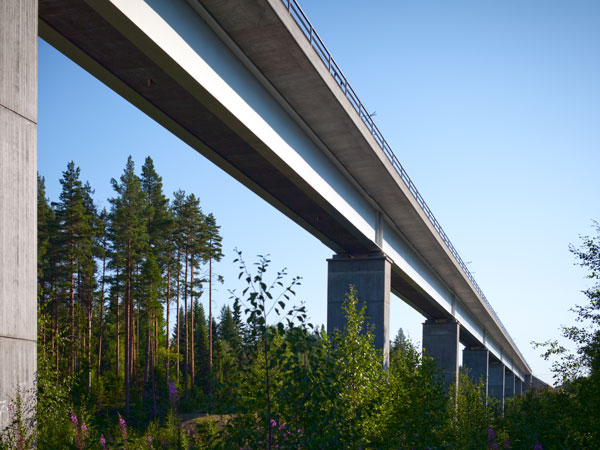 An optimal signalling project involves using a train line's capacity in the best possible way, with safety, type of train and the train driver in mind. Driveability is a key component, i.e., the speed profile's design.
In September 2021, the VTI train simulator toured northern Sweden where there are train drivers with experience of operating trains on ERTMS lines. The tour visited Sundsvall, Umeå, Luleå and Boden.
Senior Research Leader Birgitta Thorslund organised the tour together with Research Engineers Tomas Rosberg and Krister Gällman. The study will demonstrate what it is like to work with the new signalling system. The aim is to increase knowledge about how various signalling projects affect train drivers.
The simulator is an X55 Bombardier and is similar to an electric railcar integrated into a trailer set up like the driver's cab. The simulator experiment performed by the drivers took approximately one hour. Details such as the train's speed, braking, distance travelled, and eye movements were recorded throughout the simulated journey.
"Everything worked well and we are very pleased with the tour. Having the train simulator in a trailer proved to be a beneficial method for reaching the drivers with the ERTMS skills we require", says Tomas Rosberg.
The drivers had a jam-packed schedule, meaning it was a challenge catching those who had time to participate. This meant home visits were occasionally necessary.
"We've had 41 participants so far, of which two in Stockholm. We've received a lot of praise, both about the cab environment and the simulator's quality", says Birgitta Thorslund.
As always, some participants had negative opinions towards ERTMS, others were positive. The researchers explained how the younger participants, as well as those who were already becoming familiar with the new technology were the most positive. The participants consisted of diverse age groups and genders. The drivers were eager to share and gain new insights.
The cab will be kept in the trailer, meaning it can be used both on site at VTI and for new tours.
The Swedish Transport Administration is overseeing the introduction of ERTMS in close collaboration with the rail industry. The VTI research project has been commissioned by the Swedish Transport Administration and Vinnova.
Text: Gunilla Rech/VTI
Translated by: Semantix AB
Contacts:

Tomas Rosberg
tomas.rosberg@vti.se
VTI, Swedish National Road and Transport Research Institute, Sweden